SAT 15 OCT:  7pm – 8pm
SUN 16 OCT: 6pm – 7pm
GLÓR, SPÁS
CAUSEWAY LINK, ENNIS
Songbook is a 10 min projection, played on a loop. No booking required, just show up.
Sound played through radio headsets provided on location.
From national anthems to protest songs, music and singing has always played a massive role in how we understand and express our identities, beliefs and politics.
Brian Irvine and John McIlduff will work closely with a group of transition year students from Rice College in Ennis to give voice to their thoughts, dreams and experiences; creating a piece of music that echoes what they feel strongly about. They will be given an open room to discuss questions like, 'What does identity mean to you?', 'Can music be powerful?' and more…
The project will commence in September with a lyrics and spoken word workshop by John McIlduff and a series of vocal workshops by Claire O'Donoghue.  The project will then be explored, created, composed, recorded and filmed by Brian Irvine and John McIlduff in the week preceding the festival.
The final sound and visual installation will be presented to the public as an outdoor projection with sound transmitted through wireless headphones on the Saturday night of PIMA! FEST. Come along for this immersive experience of an original piece by the young minds of Co. Clare!
Dumbworld is a multi-award winning artist led creative production company. Established in 2009 by composer/conductor Brian Irvine and filmmaker/writer/director John McIlduff. Dumbworld makes work that is to be found at the intersection of music, image and words including film, opera, documentary, oratorio, animation, public art installation, performance pieces, theatre and curatorial projects. Creating artistically ambitious and exciting pieces that involve working closely with significant practicing professionals as well as people of all ages, experiences and backgrounds. Dumbworld has created and produced full-scale operas, community operas, animated operas, large -scale children's orchestral oratorios, feature films, feature documentaries and installations. Its work has been performed and seen in over 30 countries and has been recognized internationally.
Brian's body of work reflects an obsessive love of music creation in all its forms and includes operas, orchestral works, large-scale oratorios, installations, film, theatre and dance scores as well as ensemble, solo and chamber works. His music is a highly personal concoction of punk, improvisation and contemporary classical. He has been commissioned by many international orchestras, opera companies, theatres and has toured extensively with his own 12 piece ensemble. He has won a number of awards for his music including – British Composers Award for Opera  and the BBC Radio 3 Jazz Award.
 "…his mind is a microcosm of huge energy and chaos, intricately engineered to blow your head off!" BBC Music Magazine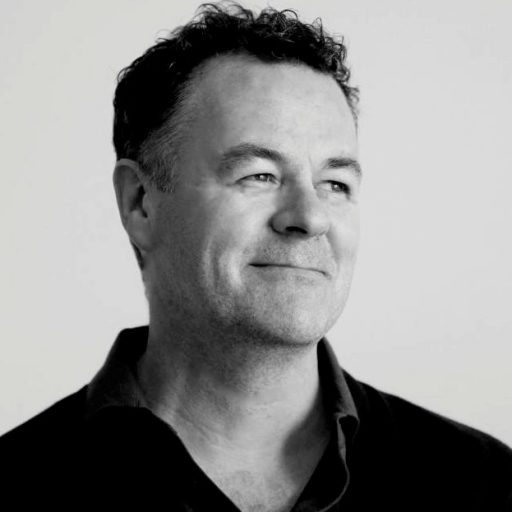 John McIlduff is a writer, stage director and filmmaker. His work spans opera, television, film, theatre, music videos, commercials, installations and song lyrics. His Film4 feature film Behold The Lamb premiered at the Toronto International film Festival and was awarded Best Screenplay at Thessaloniki International Film Festival and Best Director at the Arras International Film Festival.  John's short films have screened at festivals around the world and been appeared on ARTE (France), RTE and BBC.
"A triumph of grungy production design… impudent, poetic… marks tyro helmer-writer John McIlduff as a talent to watch."  Variety